Brooches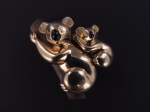 A gem-set brooch, modelling as a koala and its baby standing on a wood branch, their muzzles in onyx.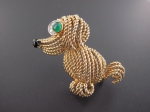 A gem-set brooch modelled as a wirework dog with green chalcedony eye, single-cut diamond lashes and sapphire nose.

A gem-set brooch modelling a rabbit, the eye with a cabochon emerald and diamonds, the mouth in rubis.